2021 Stanley Cup Champions Officially Licensed Logo Products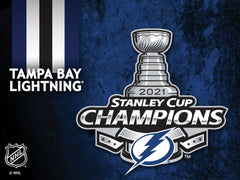 2021 Stanley Cup Champions Officially Licensed Logo Products
Here you will find the Tampa Bay Lightning 2021 Stanley Cup Championship line up of Holland Bar Stool products that will showcase the back to back winner of the 2021 Stanley Cup Playoffs. 
The full line of officially licensed home and office products by Holland Bar Stool Company go hand-n-hand with the Everyday NHL lifestyle experience. 
Here you will find 13" Printed Wood Clocks, 13" Wood Signs, 15" & 19" Neon Clocks, Collector Mirror, Jersey Mirror, Logo Mirror, Printed Canvas, Bar Stools, Billiard Covers, Billiard Lights, Cue Racks, Dome Hockey, Foosball, Grill Covers, Pub Tables, Wall decor and TV Covers. 
These product are exclusively made for the 2021 Stanley Cup Champions Tampa Bay Lightning.  All products are endorsed and licensed by the NHL and made in American by Holland Bar Stool Company.