U.S. Military TV Covers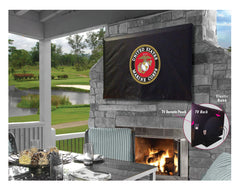 Handmade in the USA, this Officially Licensed United States Military TV Cover from Holland Bar Stool Co. boasts a state-of-the-art printing process using UV resistant inks that provide the most detailed and durable image possible. Direct sun exposure won't damage the image, and the cover still looks great year after year. The front of the cover is made from commercial-grade marine vinyl that can withstand even the harshest weather conditions, while the soft backing material on the inside protects the screen from scratches.
To keep moisture out and prevent overheating, the cover features spandex-like material that wraps around the back of the TV. The cover's back opening ensures compatibility with nearly all wall mounts, while a cinchable bungee keeps it in place, even in windy conditions. The back of the cover has a convenient pocket designed to hold the remote control when not in use.
With an American-made TV cover from Holland Bar Stool Co., protect your expensive TV while showing your loyalty to the United States Military.