National Hockey League 3 Shade Billiard Lights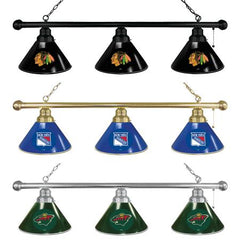 National Hockey League 3 Shade Billiard Lights
Elevate your NHL game room with our top-notch Billiard Lights, a must-have for any hockey enthusiast's home setup. Crafted by the renowned Holland Bar Stool Co., these exceptional game room fixtures are designed to add both illumination and a touch of NHL flair to your space. Whether you're hanging them above your pool table or bar, these Billiard Lights are bound to brighten your day and leave a lasting impression.
Measuring an impressive 54" in width, these lights come with a sturdy rod adorned with ball finials. They also include a convenient On/Off pull chain, 3 feet of chain for easy hanging, which attaches to a single-point ceiling mounting fixture, and 8 feet of cord with a 3-pronged plug for hassle-free installation. Moreover, the light fixtures are intelligently vented, allowing heat to escape efficiently and prolonging the lifespan of your bulbs. The polypropylene shade is elegantly trimmed to match the fixture, offering a cohesive look.
Rest assured, these Billiard Lights are UL approved and fire-resistant, ensuring your safety and peace of mind. Assembled with precision in Holland, MI, they are a testament to quality craftsmanship and attention to detail. Illuminate your game room in style and proudly display your NHL passion with these exceptional Billiard Lights from Holland Bar Stool Co.