NHL Outdoor Thermometers | Indoor LED Thermometer | Logo Thermometers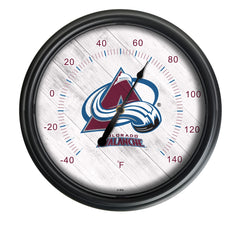 NHL Officially Licensed Indoor/Outdoor Thermometers with LED Lights.
The Holland Bar Stool Co.'s indoor/outdoor LED National Hockey League thermometers are the perfect way to show your Ice Hockey pride. These thermometers are made to handle the elements Mother Nature has to offer. The casing is made from a UV resistant black ABS plastic and the glass face lens has a rubber gasket to seal the weather from the vibrant logos and manual adjustment temperature coil.
Four LED lights are controlled by a photo eye, turning on automatically when it is dark to help illuminate the thermometer face. LED lights run off 4 D batteries (not included).
Adjustable and accurate with automatic calibration as well as manual.  For manual calibration, twist off the weather guard on the backside of the thermometer and then turn the knob behind the thermometer to the left to increase the temperature and turn to right to lower the temperature.
Artwork is digitally printed with UV inks to ensure years of fade free, vibrant colors.
Calibrates automatically.

The outdoor hanging thermometer does not require batteries to read the temperature.  
The outdoor thermometer gauge shows accurate temperature in any climatic conditions, at any temperature, and atmospheric pressure. just place it at a fixed location, after 2 hours, the pointer will match the local temperature automatically
Whether purchasing as a gift for a recent grad, Hockey super fan, or for yourself, you can take satisfaction knowing you're buying a specialized and unique thermometer that is proudly brought to you by the Holland Bar Stool Company.