United States Military Billiard Triangles | Army, Navy, Marines, Air Force & POW Logo Pool Table Triangle Rack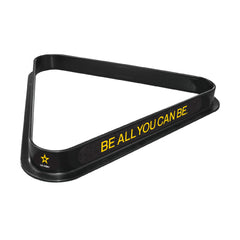 United States Military Billiard Triangles | Army, Navy, Marines, Air Force, Coast Guard & POW Logo Pool Table Triangle Rack
Introducing the "U.S. Military Branch Team Logo Pool Table Triangles" – the ultimate addition for every patriotic game room. Elevate your billiards experience with these premium-quality pool table triangles adorned with the iconic logos of your favorite U.S. Military branches.
Crafted with unwavering dedication, these triangles seamlessly blend the pride of serving your nation with the strategic gameplay of billiards. Impeccably designed and meticulously manufactured, these triangles transcend being mere accessories – they symbolize your steadfast commitment to your chosen military branch. Whether you've proudly served in the Army, Navy, Air Force, Marines, P.O.W. or Coast Guard, we've got you covered.
Whether you're hosting game nights with comrades, engaging in friendly rivalries with family members, or simply honing your billiards skills, the U.S. Military Branch Team Logo Pool Table Triangles are an indispensable addition to your game room setup. Showcasing your love for your military branch and billiards has never been more stylish and exciting. Get ready to rack 'em up and display your branch's emblem with unwavering pride!