MLB Billiard Triangles | Major Leauge Baseball Team Logo Pool Table Triangle Rack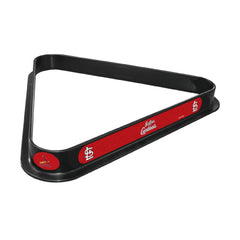 MLB Billiard Triangles | Major Leauge Baseball Team Logo Pool Table Triangle Rack

Introducing the "Major League Baseball Team Logo Pool Table Triangles" – the ultimate accessory for every baseball enthusiast's game room. Elevate your billiards experience with these premium-quality pool table triangles adorned with the iconic logos of your favorite MLB teams.
Crafted to perfection, these triangles combine the excitement of baseball with the strategy of billiards. Impeccably designed and meticulously manufactured, these triangles are more than just an accessory – they're a statement of your unwavering team loyalty. Whether you're a die-hard Yankees fan, a passionate Dodgers supporter, or root for any other MLB team, we've got you covered.
Whether you're hosting game nights with friends, challenging family members, or simply refining your billiards skills, the Major League Baseball Team Logo Pool Table Triangles are an essential addition to your game room setup. Showcasing your love for baseball and billiards has never been more stylish and exciting. Get ready to rack 'em up and show off your team's colors with pride!