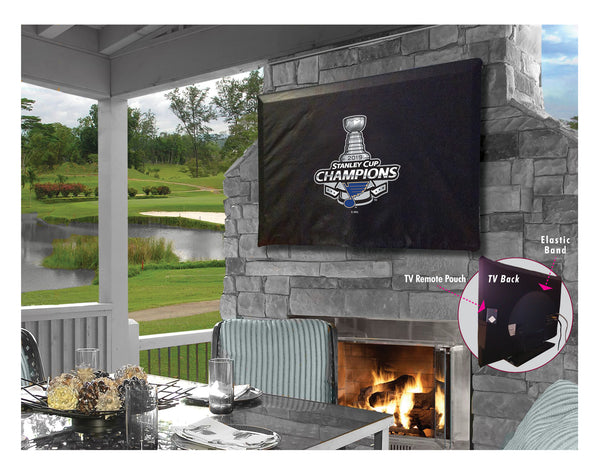 Description
The officially licensed TV Covers made by Holland Bar Stool Company are the perfect way to show your team spirit for the St. Louis Blues who were the 2019 Stanley Cup Champions.?ÿ These collector series products are made just for this special occasion in celebration of All Star Week 2020.?ÿ If you were there in person at the Consumer Products Hub or watched it live on TV you'll definitely want to take part in the Every Day NHL lifestyle that was showcased in the "Ultimate St. Louis Blues Fan Home."

This Officially Licensed St Louis Blues TV Cover from the Holland Bar Stool Co. is hand-made in the USA. A state of the art printing process utilizing UV resistant inks ensures the most detailed, durable image possible able to withstand direct sun exposure and still look great year after year. The front of the cover is made from Commercial Grade, Marine vinyl that holds up in even the harshest weather conditions. The inside of the vinyl has a soft backing material that protects the screen from scratches. Spandex-like material wraps around the back of the TV, keeping moisture out while allowing heat to freely dissipate preventing overheating.?ÿ The back opening ensures fitment with nearly all wall mounts and a cinchable bungee allows cover to be tightened down so it stays put in even the windiest conditions.?ÿ The back of the cover features a pocket designed to house the remote control when not in use. Protect your expensive TV while showing where your loyalty stands with an American made TV cover from the Holland Bar Stool Co.

St Louis Blues TV Cover (TV sizes 30"-36") by the Holland Bar Stool Co.
St Louis Blues TV Cover (TV sizes 40"-46") by the Holland Bar Stool Co.)
St Louis Blues TV Cover (TV sizes 50"-56") by the Holland Bar Stool

St Louis Blues TV Cover (TV sizes 60"-65") by the Holland Bar Stool Co.
Printed with UV Resistant Inks to Ensure Years of a Vibrant Looking Image
Commerical grade/marine vinyl with soft inside backing to fully protect TV - Breathable to fight agains mold
5-10 Business Days
Fits most wall mounted or free standing TV's - Cinchable bungee chord for secure fitment - Includes remote control pocket
Officially Licensed and Made 100% in USA
1 year warranty
With over 25 years of experience in the furniture industry, Holland Bar Stool Co. was founded on the principles of fine quality, craftsmanship, and service.?ÿ These values have carried over to our game room products, where each order is custom made as it comes in.?ÿ We use only top of the line materials in our products, providing quality where similar items fall short.?ÿ Whether building your game room or buying a gift, look for a quality, Holland Bar Stool Co. product.
Holland Bar Stool Co. takes all precautions to ensure your products arrive in excellent condition. It is very important that you inspect your product upon arrival. Claims must be made within 48 hours of receipt. If any damage is found, call Customer Service. In many cases, we can provide you with replacement parts and service as needed. Defective or Damaged Products: It is at the discretion of Holland Bar Stool Co. to do one of the following: replace the damaged part, replace the complete product, or offer a refund. To best determine which will be the best option we require photos of the damage/defect and if applicable damages to packaging. If we request the damaged item to be returned for inspection, the customer has 14 days to do so. IMPORTANT: Any returns must be accompanied by an RMA # that can only be provided by our Customer Service department. Buyers Remorse:?ÿ All Holland Bar Stool Co. products are custom and made to order. If, for any reason other than damage or manufacture defect, the customer decides they no longer want the product a 20% restocking fee will be assessed to the product purchase price and shipping charges will not be refunded.?ÿ Return shipping is the responsibility of the customer, and no refund will be given until the product is received back at the factory. Customer Service must be contacted within 48 hrs of product receipt and an RMA must be issued and accompany the product upon return. Refunds will be issued ONLY once the product is returned and deemed to be in brand new, re-sellable condition.?ÿ Return Requirements: No returns will be accepted without a RMA # from our customer service department. All items(s) must be: (1) in new/unused condition and (2) returned with all accessories and parts securely packed in all original packaging.
This product contains chemicals known to the State of California to cause cancer, and birth defects or other reproductive harm.