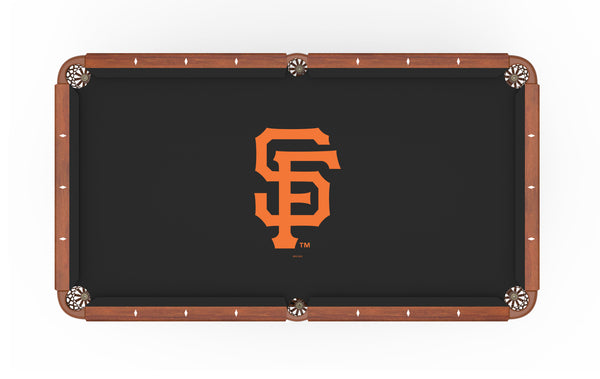 Description
San Francisco Giants Major League Baseball Logo Billiard Cloth
Looking to set your pool table apart from the others?  Look no further than a MLB logo billiard cloth from the Holland Bar Stool Co. Manufactured by Hainsworth of England, they start with their renown Worsted cloth and the Major League Baseball Teams logo is dyed into the cloth resulting in a perfectly smooth, even play surface with no effect to ball play.  Having a worsted cloth means it is woven with yarn that is combed to remove the short fibers, making the cloth smoother which results in balls running faster with much more consistent speed. Worsted cloth is more durable and will not compress to form gullies on the table.  Hainsworth worsted cloth stands apart from other cloths on the market because it incorporates: finer yarn meaning greater thread count per inch; quality dye chemicals that coat the fibers better and are less likely to fade; extensive finishing to remove loose fibers to ensure the smoothest, flattest surface, increasing ball speed and consistency; durability, stretch and quality of fiber checked at every stage of the manufacturing; state of the art modern manufacturing machinery to guarantee quality and construction of the cloth.  If you are looking to cover your new table or put new life into an existing table, look no further than the Hainsworth logo cloth offered by the Holland Bar Stool Co. Cloth sets come with enough material to cover rails and bed.
Made by Hainsworth, the world Expert in Billiard Cloth
Woven in Logo to ensure Consistent Ball Play
Officially Licensed Logo Dyed into the Cloth Resulting in a Perfectly Smooth, Even Play Surface with No Effect to Ball Play
Full Cloth Set - Includes Cloth to Cover Table and Rails
Exceptional Durability with Very Low Maintenance - Easy to Clean - Industry Choice for Installers and Players
Impressive Speed
Individually packed, made to measure sets
30-40 Business Days before it's made and ships

With over 25 years of experience in the furniture industry, Holland Bar Stool Co. was founded on the principles of fine quality, craftsmanship, and service. As an industry leading manufacturer of upscale, commercial quality bar stools, tables, and chairs, we use the finest high-quality plating grade steel and hardwood to produce our products. We distance ourselves from competitors by building our products with care and thought. We pride ourselves on having tough, durable products that are known for their quality. If you're finishing your bar or game room with a new stool, chair, or table, than do it right - with a Holland Bar Stool.
Holland Bar Stool Co. takes all precautions to ensure your products arrive in excellent condition. It is very important that you inspect your product upon arrival. Claims must be made within 48 hours of receipt. If any damage is found, call Customer Service. In many cases, we can provide you with replacement parts and service as needed. Defective or Damaged Products: It is at the discretion of Holland Bar Stool Co. to do one of the following: replace the damaged part, replace the complete product, or offer a refund. To best determine which will be the best option we require photos of the damage/defect and if applicable damages to packaging. If we request the damaged item to be returned for inspection, the customer has 14 days to do so. IMPORTANT: Any returns must be accompanied by an RMA # that can only be provided by our Customer Service department. Buyers Remorse:  All Holland Bar Stool Co. products are custom and made to order. If, for any reason other than damage or manufacture defect, the customer decides they no longer want the product a 20% restocking fee will be assessed to the product purchase price and shipping charges will not be refunded.  Return shipping is the responsibility of the customer, and no refund will be given until the product is received back at the factory. Customer Service must be contacted within 48 hrs of product receipt and an RMA must be issued and accompany the product upon return. Refunds will be issued ONLY once the product is returned and deemed to be in brand new, re-sellable condition.  Return Requirements: No returns will be accepted without a RMA # from our customer service department. All items(s) must be: (1) in new/unused condition and (2) returned with all accessories and parts securely packed in all original packaging